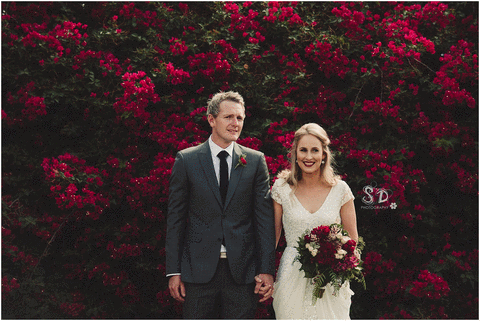 After weeks of hot weather, we were totally blessed with the most perfect day for Chelsea and Shaun's wedding.
Set on April fools day, I though it might be appropriate to create the above animated giff as something different.
Chelsea had planned to do the photos before the ceremony. The 'first look' has become popular these days and after I had visited the groomsmen, I made my way to the bridesmaids to capture the girls before the guys arrived. It's always a very special moment when the bride and groom first see each other for the first time dressed to marry, and I feel extra privileged when I am part of such a private moment. They met at Lavender Hill Cottage, and from there we went to a couple of locations for photos. I especially loved the pink boganvillia backdrop, and we almost didn't stop there due to time.
The ceremony had the lovely Jan Goodieson as it's celebrant. Jan's inviting professionalism always makes everyone feel at home, and she did not let us down. I have been lucky enough to work with Jan quite a few times over the years, which is always lovely.
Both the ceremony and reception were held at Willow and Ivie, a fantastic location for weddings and functions in Mildura. After the family photos, we managed to grab a few quick shots of the bridal party before heading into reception.
The bridal party entrance was a touch different, with them walking in and getting all (or most) the guests to join in with the couple doing their first dance.
What a beautiful room it was, and once the sun went down all the lights looked amazing! Chelsea's Dad had helped create some gorgeous hanging rings decorated with flowers. I really love the photos from the reception, it was fun shooting from different angles with the lights.
We all have different tastes, and when Chelsea asked me to edit her wedding in a particular style I was excited to try something different to what I normally do. She had given me a few references, so I did a bit of research on editing techniques.
I think pushing yourself in the creative world is an important part of growth, and I am always happy to experiment. If I didn't take the time to keep developing and chasing new goals I could possibly get bored… which is why I love what I do so much. There's so much I can just keep learning in the photography world!!
So the editing of this wedding is a little different to the style I normally do, much more dark and moody. Could this be a style I can offer to my clients in the future? Perhaps… I would love to hear any of your thoughts.